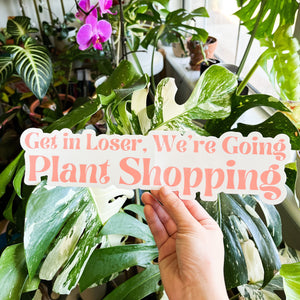 Get in Loser, We're Going Plant Shopping-  Bumper Sticker 
Beep Beep! Grab your friends and head to your favorite plant shop! This jumbo-sized sticker is the perfect way to show off your love of plants. 
Our stickers are made from high quality, permanent vinyl. They are durable and waterproof, so perfect for water bottles, laptops or even outdoor use!
This sticker is approximately 11 X 2.5 inches.
Made in United States of America
Copyright © 2023 Tiny Plant Market. All rights reserved.